QUIET TITLE WORKSHOP REDONDO BEACH, CALIFORNIA!
Saturday and Sunday, January 30-31, 2016
LEARN ALL THE DETAILS ABOUT QUIET TITLE ACTIONS AND HOW TO PREPARE THEM!
with Clouded Titles author Dave Krieger
Featuring California Quiet Title Superlawyer AL WEST, Esq.
THIS IS A 2-DAY PARALEGAL-ATTORNEY EDUCATIONAL EVENT RECOMMENDED FOR ATTORNEYS, PARALEGALS, INVESTORS AND HOMEOWNERSWHO WISH TO SHARE THIS INVALUABLE INFORMATION WITH THEIR ATTORNEYS!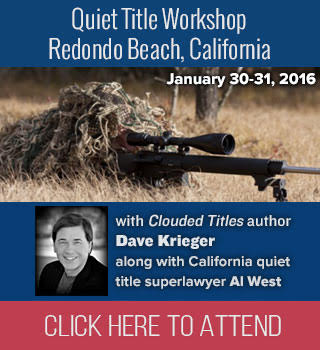 QT WORKSHOP FLYER_REDONDO BEACH
QT WORKSHOP_REGISTRATION FORM_REDONDO BEACH
© 2010-19 FORECLOSURE FRAUD | by DinSFLA. All rights reserved.
Comments
comments