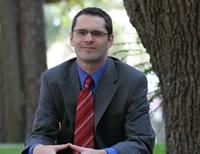 .
.
.
.
.
Christopher Lewis Peterson

University of Utah – S.J. Quinney College of Law
Real Property, Probate and Trust Law Journal, Forthcoming
Abstract:
Hundreds of thousands of home foreclosure lawsuits have focused judicial scrutiny on the Mortgage Electronic Registration System ("MERS"). This Article updates and expands upon an earlier piece by exploring the implications of state Supreme Court decisions holding that MERS is not a mortgagee in security agreements that list it as such. In particular this Article looks at: (1) the consequences on land title records of recording mortgages in the name of a purported mortgagee that is not actually mortgagee as a matter of law; (2) whether a security agreement that fails to name an actual mortgagee can successfully convey a property interest; and (3) whether county governments may be entitled to reimbursement of recording fees avoided through the use of false statements associated with the MERS system. This Article concludes with a discussion of steps needed to rebuild trustworthy real property ownership records.
[ipaper docId=39287904 access_key=key-t9fm5292wmd8fg9fz88 height=600 width=600 /]
© 2010-19 FORECLOSURE FRAUD | by DinSFLA. All rights reserved.
Comments
comments