Looks like this is becoming more and more like a fabricating factory mill full of ?????????
DOCX's GetNet™ Document Recovery solution is a national network of runners that is engaged to provide document recovery, expedited recordation services, title searches, and insurance submissions.
The service is unique in that our clients can request that DOCX obtain any missing recordable documents through this web site through our online GetNet™ Work Order Form. Status of existing projects can also be obtained through our Online Services.
We also accept work orders the "old fashioned" way via fax or mail. Upon receipt of the work order, DOCX will access the national network of runners, place the order and follow up to ensure prompt delivery.
GetNet™ was designed to assist mortgage servicers in meeting agency certifications and to avoid costly penalties for filing late satisfaction pieces.
GetNet™ Features
A National Network of title runners retains presence in every county jurisdiction nationwide.
Obtains missing mortgage documents, assignments, title policies and LGC/MICs.
Expedites recordation by physically walking documents in to county recorder offices.
Provides title searches to identify mortgage holders.
Provides online reporting capabilities.
GETNET™ RATE SHEET
[ipaper docId=38616465 access_key=key-1gta9io0omavgx417a90 height=600 width=600 /]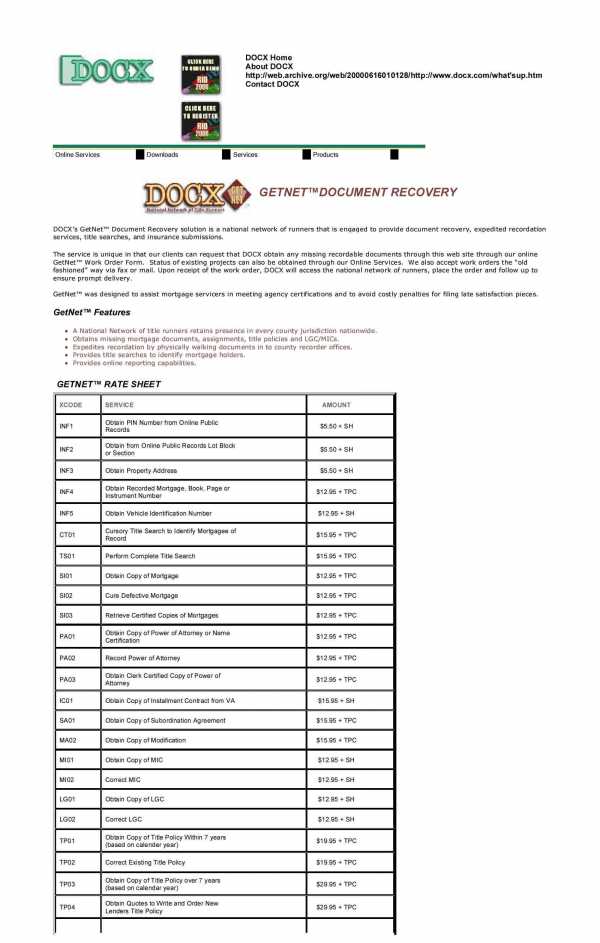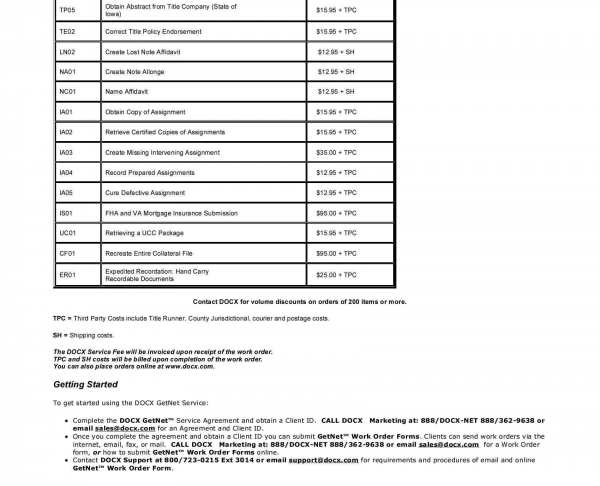 .
© 2010-19 FORECLOSURE FRAUD | by DinSFLA. All rights reserved.
Comments
comments