Helene Hamilton and Sheikh Bey,
Plaintiff( s)
-AGAINST
EMC MORTGAGE CORPORATION, AND
MORTGAGE ELECTRONIC REGISTRATION
SYSTEMS, INC., ("MERS") AS NOMINEE FOR:
FIRST NATIONAL BANK OF ARIZONA,
Patricia M. Esdinsky, Esq., as an individual,
Janan Weeks, as an individual,
Excerpt:
WHY an Order should not be made and entered herein:
1. Granting Plaintiff Stay, restraining order and vacatur of foreclosure action due to
the lack of standing associated with Assignments of FRAUD. The Defendants did not have
assignment rights to foreclose on the property. The Defendants received foreclosure sale
subject to presentment of Assignments, but failed to address the fact that the Assignments must
precede the filing of the Complaint of the subject property. The Referee sale would not have
taken place if Plaintiffs had discovered this FRAUD earlier.
<SNIP>
ORDERED, that until such time as this matter is heard  that defendants, their agents or attorneys' actions are restrained from moving forward from pursuing further foreclosure proceedings under Index No. 93 19/03
Read the complete order below…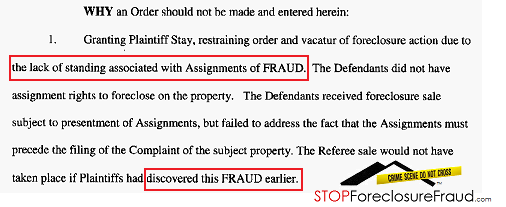 [ipaper docId=46420291 access_key=key-1j970so6de2vk6ge5u20 height=600 width=600 /]
© 2010-19 FORECLOSURE FRAUD | by DinSFLA. All rights reserved.