By Jonathan C. Cross and Stacey Trimmer
New York government officials are continuing their assault against foreclosure actions where Mortgage Electronic Registration Systems, Inc. ("MERS") was the assignee of the mortgage, and challenges to foreclosures involving MERS are increasingly gaining traction in New York courts. Recently, the New York State Attorney General filed a complaint against MERS and several banks alleging fraud and deception in foreclosure proceedings. People v. JPMorgan Chase Bank N.A., No. 2012/2768 (N.Y. Sup. Ct. Feb. 3, 2012). In addition, three New York trial courts have decided motions involving standing and other issues in such actions. CIT Group/Consumer Fin., Inc. v. Platt, 33 Misc. 3d 1231(A) (N.Y. Sup. Ct. 2011); U.S. Bank N.A. v. Bressler, 33 Misc. 3d 1231(A) (N.Y. Sup. Ct. 2011); Bank of New York Mellon v. Martinez, 33 Misc. 3d 1215(A) (N.Y. Sup. Ct. 2011). Two courts ruled against the foreclosing banks, finding they did not have standing to foreclose where MERS assigned a mortgage without express authority to do so or sufficient documentation evidencing that the note was also transferred. Although the third court dismissed a lack of standing defense, it did so solely for procedural reasons.
Read More Beginning At Page 16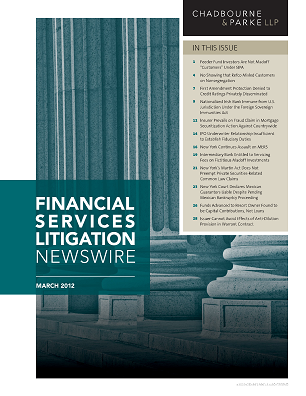 © 2010-19 FORECLOSURE FRAUD | by DinSFLA. All rights reserved.