He operates the largest foreclosure law firm in the state, and these hard times have made Mark P. Harmon a very busy man. Some critics assail his tactics, but Harmon is unapologetic: Lenders, after all, need zealous lawyers, too.
BOSTON–
Devenia Mack doesn't know Mark P. Harmon personally, but the Newton lawyer is intimately involved in her housing crisis. His company, Harmon Law Offices, was hired by Wells Fargo Bank last year to seize Mack's Westminster ranch house by foreclosure.
His son, Andrew, signed the paperwork that transferred the mortgage to Wells Fargo.
His title company stamped the document notifying Mack that the bank was taking her home.
[…]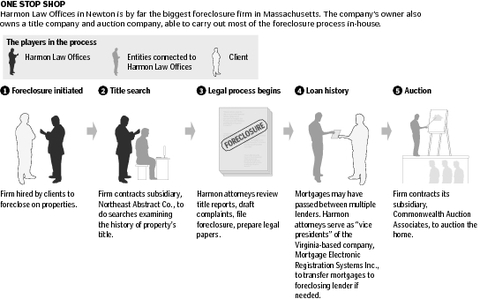 [image: Boston Globe]

© 2010-19 FORECLOSURE FRAUD | by DinSFLA. All rights reserved.