Please welcome Ericka Johnson Seck to the ROBO-SIGNER Hall of Sham!
MERS & LPS once again the "Common Thread"
Here is a list of her many Corporate Hats:
Vice President of Mortgage Electronic Registration Systems Inc. (MERS)

Vice President of Deutsch Bank National Trust

Vice President of Bank of New York

Attorney in Fact of IndyMac

Attorney in Fact of ONEWEST

Attorney in  Fact of FDIC
I must confess, she was my first study because she signed two assignments for "one" of my properties using "two" different employers. 🙂 '<blush> I even created my very first youtube video in her honor (see below)!
Thanks to Judge Arthur Schack and Tom Ice from Ice Legal in Palm Beach County, we all became familiar with Erica for wearing too many corporate hats.
She is the "Robo-Signer" Judge Schack called out in three particular cases in NY and made her an instant foreclosure household name. I don't think she ever emerged in NY soon after this. Also see the  HSCB v. Yasmin case.
Excerpt of DEUTSCHE BANK NATIONAL TRUST v. HARRIS
The Court is perplexed as to why the assignment was not executed in Pasadena, California, at 46U Sierra Madre Villa, the alleged "principal place of business" for both the assignor and the assignee. In my January 3 1, 2008 decision (Deutsche Bank National Tr (1st Canpuny v Maraj, – Misc 3d – [A], 2008 NY Slip Op 50176 [U]), I noted that Erica Johnson-Seck, claimed that she was a Vice President of MERS in her July 3,2007 INDYMAC to DEUTSCHE BANK assignment, and then in her July 3 1,2007 affidavit claimed to be a DEUTSCHE BANK Vice President. Just as in Deutsche Bank National Trust Company v Maraj, at 2, the Court in the instant action, before granting itn application for an order of reference, requires an affidavit from Ms. Johnson-Seck, describing her employment history for the past three years.

Further, the Court requires an explanation from an officer of plaintiff DEUTSCHE BANK as to why, in the middle of our national subprime mortgage financial crisis, DEUTSCHE BANK would purchase a non-perferforming loan from INDYMAC, and why DEUTSCHE BANK, INDYMAC and MERS all share office space at 460 Sierra Madre Villa, Pasadena, CA 91 107.
24,000 Monthly Documents executed by her team
Now Lets move on to this below… according to this deposition her office signs 24,000 mortgage related documents out of the this figure she signed about "750" a week making it approximately 3000 mortgage documents used in foreclosure cases. Anything from Affidavits of Debt, Lost Note Affidavits, Assignment of Mortgages, Declarations pretty much anything having to deal with Bankruptcy and Foreclosures.
This is what she signs without any notary present.
DEPOSITION OF ERICA JOHNSON SECK

[ipaper docId=37528161 access_key=key-t6hhb0aqxj8gvgam8s7 height=600 width=600 /]
Below is a sale that happened in DC all in 1 single day! It appears she also puts properties in her name with her co-employees Roger Stotts and  Eric Friedman.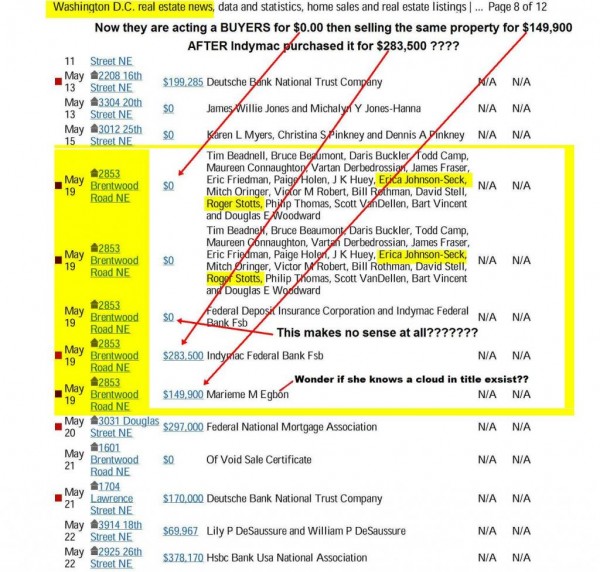 ROGER STOTTS  signs these as well and according to the depo above Indymac/Onewest is "NOT" the custodian as defined below. Why do they commit fraud?


FIRST VIDEO MADE OF DAVID J. STERN, ERICA JOHNSON-SECK BACK IN FEBRUARY 2010

© 2010-19 FORECLOSURE FRAUD | by DinSFLA. All rights reserved.