Bloomberg-
Bank of America Corp.'s Countrywide unit was ordered to pay $1.3 billion in penalties for defective mortgage loans sold to Fannie Mae and Freddie Mac in the run-up to the 2008 financial crisis, a little more than half of what the federal government had requested.
U.S. District Judge Jed Rakoff in Manhattan issued the civil penalty against the Charlotte, North Carolina-based bank today in the first mortgage-fraud case brought by the federal government to go to trial.
Countrywide and Rebecca Mairone, a former executive with the mortgage lender, were found liable by a jury in Manhattan federal court in October for selling thousands of bad loans to the two government-sponsored enterprises. Mairone was ordered to pay $1 million.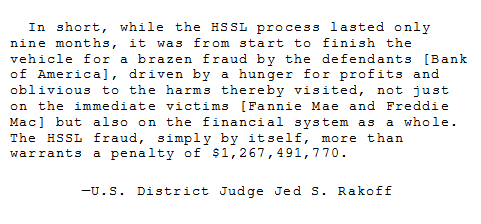 © 2010-18 FORECLOSURE FRAUD | by DinSFLA. All rights reserved.
Comments
comments