Clouded Titles-
It never ceases to amaze me when I hear a real estate agent or investor tell me that they're not worried about issues involving their planned or recent real estate purchase or sale because "the title insurance will cover it". That is the biggest myth being propounded in this day and age, largely by the title companies. For decades, we've all been led to believe that title policies are "necessary evils" if we want to purchase real estate.
I had an investor contact me the other day to inquire about paying cash for a property as a rental investment. I asked whether they had done a search of the land records to see what the condition of title looked like, only to hear the stock answer, "Do I need to be worried? Won't the title insurance take care of it if there's a problem?"
If you can find me a case where a title insurance company actually paid out a claim or paid legal fees to represent an owner or investor where an unknown intervening assignee (called mesne assignees; that's pronounced "mine", which means "many") came back years later, claiming an interest in the subject property and foreclosed on it, then I'll print a retraction to this post and apologize to every single title company that complained about my post IN WRITING because title companies, like any other insurance company, look for reasons why NOT to pay out on a claim when an issue arises.
When it comes to dealing with the chain of title where MERS…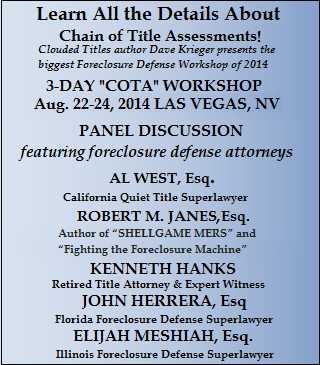 © 2010-19 FORECLOSURE FRAUD | by DinSFLA. All rights reserved.
Comments
comments