Why SFF needs your support? …
Because we expose the truth!
Please consider supporting this site in effort to continue helping families, homeowners, the legal community and to raise awareness of the bank misdeeds throughout the US.
Your support is important to me! SFF has no endowment to fund its activities. I depend on people like you to keep SFF going strong. Your support will help me continue with fees associated with running this website (it is a lot for a one man operation) and with research time.
I welcome your support via my secure PayPal link. You can use your VISA, Mastercard, American Express or Discover Card, so donating is fast and easy.
But you don't have to set up a PayPal account to donate here. One-time donations are easy too.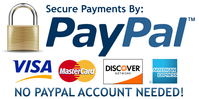 © 2010-19 FORECLOSURE FRAUD | by DinSFLA. All rights reserved.
Comments
comments