A BRIBE by any other name is still a BRIBE!

If they are doing these kickbacks in China, I can only imagine what goes on here in the U.S.. I just don't think the children of the government are involved.

NYTIMES-
To promote its standing in China, JPMorgan Chase turned to a seemingly obscure consulting firm run by a 32-year-old executive named Lily Chang.
Ms. Chang's firm, which received a $75,000-a-month contract from JPMorgan, appeared to have only two employees. And on the surface, Ms. Chang lacked the influence and public name recognition needed to unlock business for the bank.
But what was known to JPMorgan executives in Hong Kong, and some executives at other major companies, was that "Lily Chang" was not her real name. It was an alias for Wen Ruchun, the only daughter of Wen Jiabao, who at the time was China's prime minister, with oversight of the economy and its financial institutions.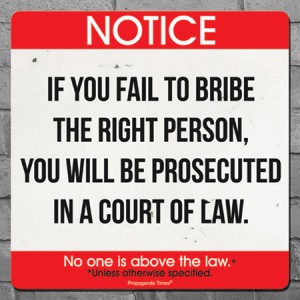 bribe image: www.trafficgenerationcafe.com
© 2010-18 FORECLOSURE FRAUD | by DinSFLA. All rights reserved.
Comments
comments