Forensic Investigation of the Employee Retirement System of Rhode Island for Rhode Island Council 94, American Federation of State, County and Municipal Employees by Benchmark Financial Services, Inc., October 17, 2013.
I. Executive Summary
Two years ago, Rhode Island's state pension fund fell victim to a Wall Street coup. It happened when Gina Raimondo, a venture capital manager with an uncertain investment track record of only a few years—a principal in a firm that had been hired by the state to manage a paltry $5 million in pension assets—got herself elected as the General Treasurer of the State of Rhode Island with the financial backing of out-of-state hedge fund managers. Raimondo's new role endowed her with responsibility for overseeing the state's entire $7 billion in pension assets.
In short, the foxes (money managers) had taken over management of the henhouse (the pension).
For Raimondo, a 42 year-old Rhode Island native, serving as state treasurer represents a major career boost. It also has presented her with an opportunity to enrich herself and her hedge fund backers at the expense of the state's pension fund, the public workers who are counting on it to finance their retirements and the taxpayers who could be stuck for millions, or billions, of dollars if it's mismanaged.
[Click image below for Full Report]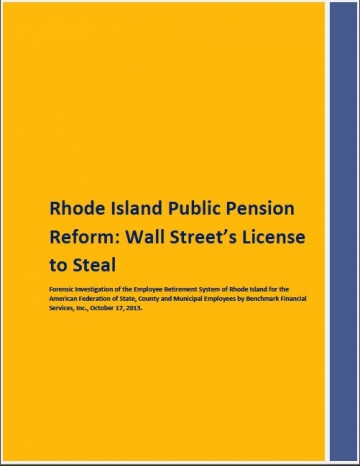 © 2010-18 FORECLOSURE FRAUD | by DinSFLA. All rights reserved.
Comments
comments