THE AFFIDAVIT OF KARYN ARMSTRONG
I, Karyn Armstrong, state and affirm as follows:
1.   I am over the age of eighteen years, am of sound mind, have never been convicted of a felony or crime of moral turpitude; I am competent in all respects to make this
declaration. I have personal knowledge of the matters declared herein, and if called to testify to the same, I could and would competently testify thereto.

2.  This affidavit concerns statements made to me by Ashley Curry of the Chase
Executive Offices concerning the destruction of all Washington Mutual Bank FA
original loan documents after uploading.

3.  On June 17, 2013, I spoke on the telephone to Ashley Curry and learned me that she
was with the Chase Executive Offices and was assigned to investigate my complaint
regarding the Independent Foreclosure Review (IFR) by Rust Consulting.

4. I asked Ashley Curry what she needed from me in order to investigate my claim. I
learned that Ashley needed the notices of default and the bankruptcy discharge
documents. I was clear with her, that I started the bankruptcy process in early
December 2009 and the bankruptcy was not final until June 2010. I sent the
bankruptcy documents to her by email per her request.

5. During this phone call, I asked Ashley if she could send me a color copy of the
original note, deed of trust and the rider (the collateral file) for my loan. She told me
that she would look into it and get back to me.

6. On June 21, 2013, Ashley Curry called to let me know the findings of the IFR
investigation. I learned from her that the matter was resolved and my foreclosure
happened after the bankruptcy was final so the payment of $300 was correct.1 I
learned from Ashley that I might be able to appeal the decision and she stated that she
would get back to me.

1 This is not true. I was peppered with notices of default in 2009 and the early part of 2010 after I filed
bankruptcy.

7. I asked Ashley Curry what the status was of my request for colored copies of the
original note, deed of trust and the rider that went with this loan. I learned from her
that there was no way that she could get colored copies for me because all the original
loan documents were destroyed after being up-loaded into the Mortgage Electronic
Registration System (MERS).

8.  I learned from Ashley that by law, MERS had to give me the documents so I should
request them through the MERS process. This was very confusing to me because
according to my black and white copies of the collateral file MERS is not the
beneficiary. I learned from Ashley that it did not matter if my loan was associated
with MERS because all Washington Mutual Bank, FA original notes, deeds of trust,
and other legal documents were destroyed.

9.  The last time I spoke to Ashley was on July 11, 2013 when I learned from her that she
had received my email and the Chase attorneys were not finished. I did not hear
anything for a week. As of August 21, 2013, I have not received anything in the mail
responding to the letter that I sent to her on June 21, 2013 about the appeals process
for the Chase decision. I have called Ashley Curry leaving messages at least twice a
week. Her voicemail claims she will get back to all callers within 24 hours but as of
today (August 21, 2013) I have received no return call.

10.  I called Rust Consulting on August 21, 2013 and was told that my case # xxxxxxxxxxx
was closed, that the final decision was that the $300 payout was appropriate and that I
had no right to appeal their decision. However, I was not restricted from pursuing this
decision legally on my own. 

Further the Affiant Saith Naught.
Karyn Armstrong Affidavit
***Click Image Below for PDF***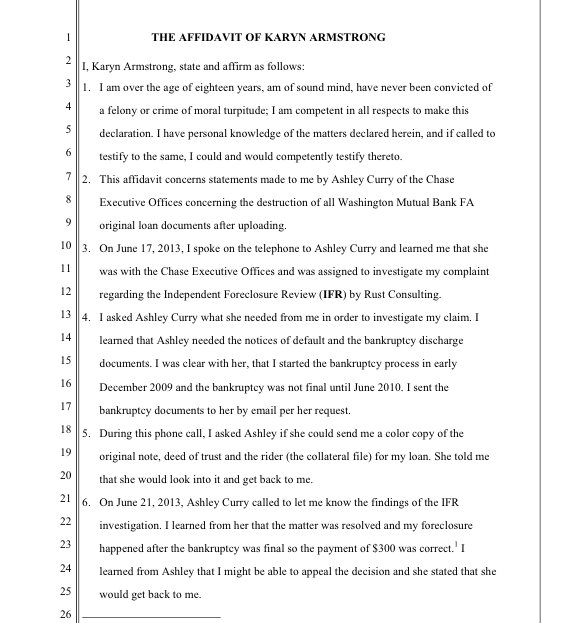 © 2010-19 FORECLOSURE FRAUD | by DinSFLA. All rights reserved.
Comments
comments