UPDATE: Dylan's post is now up on Huffington Post @2PM.

or Go Directly to his site and read his latest: Putting Our Money Where Our Mouth Is

I subscribe to Dylan's notifications so that anytime he publishes a post on HuffPO I get an email alert, but when I went to read it, it was redirected to HuffPO's home page. Hmm this might be a glitch so I proceeded to let both Huffington Post and Arianna Huffington know about this and then I went to try one more time and this time the post along with the "latest blog entry" was entirely gone. Makes one think if what he said in his latest article titled Dylan Ratigan: Putting Our Money Where Our Mouth Is, is being censored because we all know how outspoken Mr. Ratigan is about standing up for our rights. I hope I am mistaken because we all miss hearing from Dylan. If HuffPO reaches out to us we'll fix/correct/update this post.

@huffingtonpost @ariannahuff FYI: Your link doesn't work on the latest Dylan Ratigan article

— StopForeclosureFraud (@Din_SFLA) March 20, 2013
Dylan's Image: MSNBC
This is the article that is now missing and redirects you to HuffPO's home page.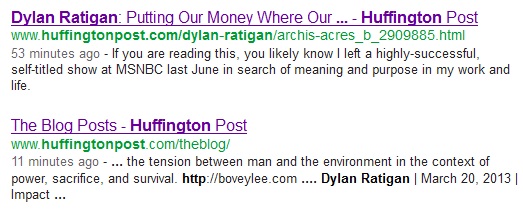 Dylan's latest blog post was also deleted. It was there

on HuffPo

but when I went back to capture a screen shot it was gone. But this shows it was deleted. Again, I hope I am wrong.


Check out why Dylan's work leaves you speechless.
© 2010-19 FORECLOSURE FRAUD | by DinSFLA. All rights reserved.
Comments
comments