For more information on NDAA please visit Stop NDAA
UNITED STATES DISTRICT COURT SOUTHERN DISTRICT OF NEW YORK
CHRISTOPHER HEDGES, DANIEL ELLSBERG, JENNIFER BOLEN, NOAM CHOMSKY, ALEXA O'BRIEN, US DAY OF RAGE, KAI WARGALLA, HON. BRIGITTA JONSDOTTIR M.P.,
Plaintiffs,
-v-
BARACK OBAMA, individually and as representative of the UNITED STATES OF AMERICA; LEON PANETTA, individually and in his capacity as the executive and representative of the DEPARTMENT OF DEFENSE, JOHN MCCAIN, JOHN BOEHNER, HARRY REID, NANCY PELOSI, MITCH MCCONNELL, ERIC CANTOR as representatives of the UNITED STATES OF AMERICA,
Defendants.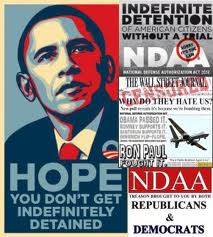 image: blog.alexanderhiggins.com
[ipaper docId=105760247 access_key=key-209blh8yv7jbguyzdw49 height=600 width=600 /]
© 2010-19 FORECLOSURE FRAUD | by DinSFLA. All rights reserved.
Comments
comments