I. Overview
The American Securitization Forum ("ASF")1 releases this white paper in response to the Strategic Plan2 issued by the Federal Housing Finance Agency ("FHFA"), which, among other things, proposes to build a new infrastructure for Fannie Mae and Freddie Mac (the "GSEs"). We understand that FHFA and the GSEs currently are taking steps to implement this Plan, including the development of a single securitization platform that would "allow for a single mortgage-backed security."3 We believe that secondary mortgage market participants must play an integral role in the implementation of any such security, and that FHFA should also consider the pricing inefficiencies that currently exist in the market for Fannie Mae Mortgage-Backed Securities ("MBS") and Freddie Mac Participation Certificates ("PCs"). We offer this white paper as a resource to FHFA that outlines our originator, investor and dealer member views on a unified agency security (the "Single Agency Security") that could be substituted for Fannie Mae MBS and Freddie Mac PCs. While this paper outlines many areas of agreement among our members on how FHFA should proceed if it endeavors to create a Single Agency Security, there are also differences of opinion that should be carefully considered. As an overarching principle, however, all parties support the continued availability of a deep and liquid to-be-announced ("TBA") market for agency securities and ask that FHFA avoid any actions that would inhibit such market.
This white paper is not meant to address broader GSE reform that may be considered and enacted by Congress over the long-term (although the ideas expressed herein would not hinder such reform either). Rather, it is meant to provide industry views on the single security goals outlined in FHFA's Strategic Plan and to set forth steps to minimize, or even eliminate, some of the pricing inefficiencies that currently exist in the market. We believe that all of the ideas set forth in this paper can be implemented without amendments to the GSEs' charters, and thus can be acted upon by FHFA without any additional Congressional action.
[…]
Click Image Below For PDF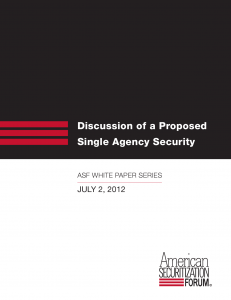 © 2010-19 FORECLOSURE FRAUD | by DinSFLA. All rights reserved.
Comments
comments