A bit off topic but I know many of you are experiencing some sort of eye strain, reading and googling just about everything in mind as well as maybe developing back stress from sitting a bit too long.

Here are a few tips via [Apartment Thearpy].
Viewing Distance – Set your screen at eye level and at a recommended distance of around 20 to 26 inches.
Ambient Light – Try to avoid harsh fluorescents and swap in more soft and natural bulbs.
Prevent Dry Eyes – Take a break to lubricate and soothe your eyes when symptoms begin to present themselves.
Computer Reading Glasses – If you've addressed the common issues with appropriate lighting and ergonomics and still have eye fatigue symptoms there is one more avenue to explore — specialized computer reading glasses
Below is a video on eye exercises (http://www.naturaleyecare.com)

Another source of information via [Dr. Kevin Hue-Fah, B.Sc., D.C.]
Try not to sit for too long. Take frequent breaks 5-10 minutes for every hour spent at the workstation. Even getting up to stretch and walk around will help improve circulation and reduce overall stiffness

Vary the work tasks. Alternate keyboarding with other activities requiring moving around or changing body position.

Make sure chair has adequate cushioning. Use a back support for additional support. Make sure feet are touching the floor to reduce pressure on lower back.

Watch posture. Try to stay close to ideal posture for as long as possible

Regular breaks will help reduce muscle aches, eye strain, stress

Eye exercises: look away from screen occasionally to focus eyes on object far away

Wash hands, rub hands together to warm up, place over eyes to soothe

Arm rests – try to use a chair that has these

Ergonomic keyboard – will reduce stress and tension on wrists, hands

Anti-glare monitor screen – will reduce eye fatigue and radiation

Make sure text readable, that not squinting to see what typing (adjust

Font and /or viewing size and style so readable)

Telephones: use headset, switch sides if possible; if have no headset, then try to alternate between sides so do not put too much pressure on one side of neck

Use mouse pad and wrist pad to support wrists and hands in neutral position

Position monitor in front of you, slightly lower than line of sight
Read more at 2oyo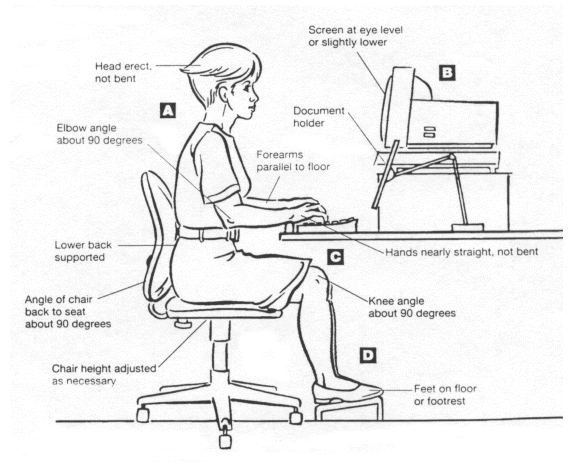 © 2010-19 FORECLOSURE FRAUD | by DinSFLA. All rights reserved.
Comments
comments