If you want to know where the bodies are buried, look no further. Here are a few snips from Marie's brief:
In what has become common parlance among those
investigating these securitization failures (including
the Securities and Exchange Commission and the
Department of Justice), we refer to this type of
transfer as an "A to D" assignment because it skips
over parties "B" and "C" and creates a "wild deed"
(especially in title theory states such as
Massachusetts).
The assignment of mortgage is the "breeder
document" from which all other paperwork necessary
to bring the foreclosure action; notice the sale;
obtain judgment; and transfer title depends.
"The Eaton Defect" as described in our amicus brief occurs when an entity, such as Green Tree Servicing LLC takes the mortgage by assignment and prosecutes a foreclosure in its own name when it neither owns nor holds the note.
"The Ibanez Defect" as described in this amicus brief occurs when an entity, such as Option One Mortgage Corporation, sells the loan for securitization purposes and later, after the loan has been sold multiple times, assigns the Note and Mortgage (or just the Mortgage) directly to the Trustee of the Issuing Entity (securitized trust).
Supreme Judicial Court
FOR THE COMMONWEALTH OF MASSACHUSETTS
NO. SJC-11041
SUFFOLK COUNTY
HENRIETTA EATON,
PLAINTIFF-APPELLEE,
v.
FEDERAL NATIONAL MORTGAGE ASSOCIATION & ANOTHER,
DEFENDANTS-APPELLANTS.
ON APPEAL FROM AN INTERLOCUTORY ORDER OF THE SUFFOLK SUPERIOR COURT
SUPPLEMENTAL BRIEF OF
AMICUS CURIAE MARIE MCDONNELL, CFE
[ipaper docId=80055062 access_key=key-2jczy7ahsbjdgr7u6vbg height=600 width=600 /]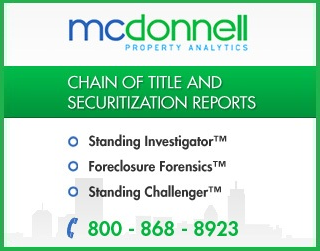 © 2010-19 FORECLOSURE FRAUD | by DinSFLA. All rights reserved.