Via: Max Gardner's Boot Camp–
The report specifically indicates that "It should not be assumed that all mortgage notes are negotiable instruments" and  affirms that the requirements of  section 3-104 must be met in order for a particular mortgage note to be considered a negotiable instrument.
(If you're not registered for the UCC seminar yet, there is space available:  get more information or register now!)
Introduction
Recent economic developments have brought to the forefront complex legal issues about the enforcement and collection of mortgage debt. Many of these issues are governed by local real property law and local rules of foreclosure procedure, but others are addressed in a uniform way throughout the United States by provisions of the Uniform Commercial Code (UCC).1 Although the UCC provisions are settled law, it has become apparent that not all courts and attorneys are familiar with them. In addition, the complexity of some of the rules has proved daunting.
The Permanent Editorial Board for the Uniform Commercial Code2 has prepared this Report in order to further the understanding of this statutory background by identifying and explaining several key rules in the UCC that govern the transfer and enforcement of notes secured by a mortgage3 on real property. The UCC, of course, does not resolve all issues in this field. Most particularly, as to both substance and procedure, the enforcement of real estate mortgages by foreclosure is primarily the province of a state's real property law (although determinations made pursuant to the UCC are typically relevant under that law). Accordingly, this Report should be understood as providing guidance only as to the issues the Report addresses.4
Please click image for paper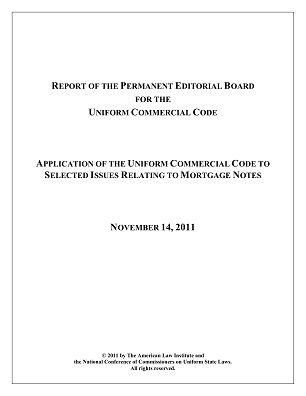 © 2010-19 FORECLOSURE FRAUD | by DinSFLA. All rights reserved.
Comments
comments