Via NewsTsar on Oct 26, 2011
UPDATE: 'Veterans For Peace' tells Newzar that Scott Olsen is in a serious but stable condition in hospital. He suffered a fractured skull as a result of being struck in the head by a teargas canister.
EARLIER: A veteran who is part of the Occupy protests is believed to have been shot in the head by a rubber bullet fired by police in Oakland, Ca. Police used teargas to keep protestors and flash grenades from reaching their site. New disturbing video is believed to show a bloodied and wounded Scott Olsen of the group Veterans For Peace being carried away.
Below is another person but not certain their name, also hit in the head with a rubber bullet or a bean bag. He should consider seeking medical attention ASAP.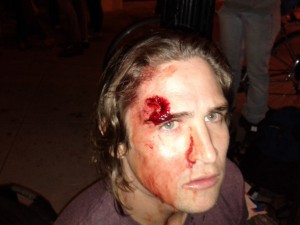 © 2010-19 FORECLOSURE FRAUD | by DinSFLA. All rights reserved.
Comments
comments