Will the Mortgage Mess Meet Too Big To Fail?
HuffPO-
Ever since the Dodd-Frank Wall Street Reform Act passed last year, there has been a running debate about the Resolution Authority in the bill. Would it actually prevent another taxpayer bailout of a bank or banks to avoid a financial meltdown? I believe there is a real possibility that the present mortgage mess could trigger such a test.
The Congressional Oversight Panel of the TARP, which I chaired until it ceased operations earlier this year, held a number of hearings and issued numerous reports on problems within the federal government's Home Affordable Modification Program. I came to suspect that the entire system in place to bundle and sell mortgages through securitization might be fatally flawed.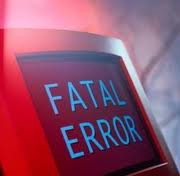 © 2010-19 FORECLOSURE FRAUD | by DinSFLA. All rights reserved.
Comments
comments