Bizarre is the first thing that comes to mind. What many of us find disturbing is what exactly is playing part behind closed doors. The following information should have been in place years ago…

Take for instance the latest from The Wall Street Journal:
The document also spells out steps for banks to verify the accuracy of amounts owed, people familiar with the proposal said. Banks will face limits on fees that they can impose on delinquent borrowers. The document also includes a list of directives to improve tracking of mortgage notes and the chain of title, and to boost oversight of foreclosure law firms and third-party vendors, these people said.

The code of conduct references the Mortgage Electronic Registration System, or MERS, an electronic lien-registry system designed to facilitate the recording of mortgages. It says details clarifying the use of MERS may be spelled out later.

Banks said they are studying the document. "We are analyzing what was shared with us yesterday," said a spokeswoman for Wells Fargo. A spokesman for Citigroup said, "Our discussions with government officials are confidential." Bank of America declined to comment.
Negotiating fraud should not be an option. Why keep this information from the public?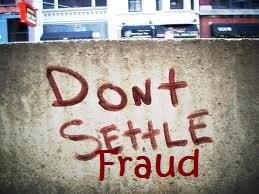 © 2010-19 FORECLOSURE FRAUD | by DinSFLA. All rights reserved.
Comments
comments