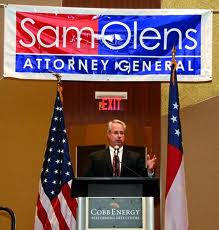 Excerpts from The Atlanta Journal-Constitution:
Newly elected state Attorney General Sam Olens said Wednesday he will push the General Assembly for the authority to launch criminal investigations of improper foreclosures.
[…]
The attorney general has the power to prosecute mortgage fraud, but apparently not foreclosure fraud. Olens said he wants to change that, and he also said he might ask the State Bar of Georgia, which licenses lawyers, to look into allegations of misconduct by real estate attorneys in the mortgage origination as well as foreclosure process.

"We're still working on our legislative agenda now, and frankly, that's part of it," Olens said. A senior leader in the office's criminal division asked Olens recently to press for jurisdiction to cover foreclosure fraud.

© 2010-19 FORECLOSURE FRAUD | by DinSFLA. All rights reserved.
Comments
comments