For you to understand a little more about "the 4 minute foreclosure" you first have to know some key players in the controversy surrounding the foreclosure process today. I included a few excerpts from an article written by Gerlad B. Alt for DS News March of 2007 that you will find at the end. I only wish MERS was included in this article because without this device none of this would have been made possible.

The Federal Home Loan Mortgage Corporation (FHLMC), known as Freddie Mac, is a public government sponsored enterprise (GSE), headquartered in the Tyson's Corner CDP in unincorporated Fairfax County, VirginiaFreddie Mac, one of America's biggest buyers of home mortgages, is a stockholder-owned corporation chartered by Congress in 1970 to keep money flowing to mortgage lenders in support of home-ownership and rental housing.

Freddie Mac was the first investor to improve on the so-called standard timeframes by tightening the noose and imposing what seemed at the time like draconian and arbitrary standards for completion of legal actions for foreclosure and bankruptcy. To reinforce its point, the Federal Home Loan Mortgage Corporation adopted a designated counsel program under which the attorneys chosen to participate were expected to meet and be graded against these more stringent dates.
LOGS Network is a multi-state network of title companies and law firms and connecting them via a proprietary web-hosted software system. They developed a proprietary statistical program called ASAP (Attorney Scorecard and Performance) to help manage the more than 250 law firms its outsourcing division. By introducing , invented the field counsel industry that serves residential mortgage banking. LOGS Network was co-founded by Gerald M. Shapiro of Shapiro & Fishman PA a law firm who handles foreclosures for the financial industry. His network held a virtual monopoly on all foreclosure and bankruptcy work nationwide until the early 1990s. In addition, he preempted the entire industry by creating the "cradle to grave" concept through business developments in title, closing, document preparation, foreclosures, REO, outsourcing, collection, and debt acquisition businesses.
Fidelity National, a national default outsourcing and information provider, was one of the first in the industry to implement time-frames a high priority instead of a guideline standards. It instituted a policy recognizing and rewarding those attorneys who did work for its clients in a consistently shorter time than their competition. Fidelity mentality was the faster the better and by publicizing and comparing the time to completion of various legal tasks among the hundreds of law firms doing work for its client base. It created a demand for attorneys to keep up with their business practices in the same sequence that other industries have had to in the sense of "recreating the wheel" so to speak to keep up with growing competition.

By having a goal of recovering nonconforming assets for the servicers this put pressure on the time frames they had in order to recover title.
Of course, when the only acceptable
test for quality becomes a simple test
of speed, it is inevitable that some of
the participants will feel compelled
to cut corners to stay in the game.
Click Image For PDF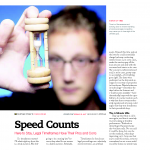 Comments
comments