Just a few weeks ago Wells Fargo made an announcement that there were no problems at all blah blah blah…and now they have passed the baton to Lender Processing Services…
Wells Fargo has found fraud errors… sigh.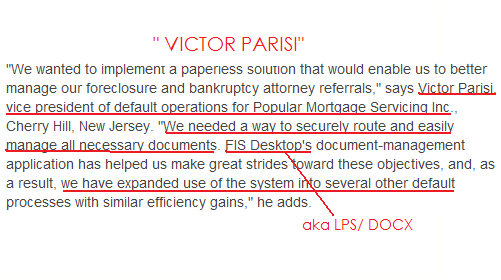 LPS: no defects in related foreclosures, no fee-splitting
Friday, October 29th, 2010, 7:30 am
Lender Processing Services (LPS: 28.69 +4.33%) began reducing its foreclosure signing services back in 2008 and stands by its mortgage processing services. Further, when the firm caught a manager robo-signing foreclosure documents, the only such case it says it found, that manager was immediately dismissed and documents remediated.
"We believe we have taken appropriate steps and we do not believe it resulted in any wrongful foreclosures," said LPS CEO Jeff Carbiener in a third-quarter conference call to investors Friday. "We no longer provide foreclosure document services."
Carbiener also said that his company does not participate in fee-splitting or revenue-sharing with lawyers, another recent charge against the company.
"We are not an equity owner in any law firm," he said.
LPS, a mortgage and real estate technology and services provider, reported net earnings of $78.7 million or 85 cents per share, in the third quarter of 2010, up from $75.5 million or 78 cents per share, in last year's quarter.
JPMorgan Chase (JPM: 37.605 +0.25%), Bank of America (BAC: 11.4301 -0.87%) and Wells Fargo (WFC: 25.85 -0.35%) also now use LPS desktop management software for dealing with clerical issues when it comes to mortgages, the CEO said.

.
© 2010-19 FORECLOSURE FRAUD | by DinSFLA. All rights reserved.
Comments
comments