P RESEN T:
HON. ARTHUR M. SCHACK
HSBC BANK USA, N.A., AS INDENTURE TRUSTEE
FOR THE REGISTERED NOTEHOLDERS OF
RENAISSANCE HOME EQUITY LOAN TRUST
2005-3, RENAISSANCE HOME EQUITY LOAN
ASSET-BACKED NOTES, SERlES 2005-3,
Plaintiff,
– against –
CANDIDA VALENTIN, CANDIDE RUIZ, et. al.,
Excerpts:
Additionally, plaintiff HSBC must address, a third matter if it renews its application for an order of reference. In the instant action, as noted above, Scott Anderson, as Vice President of MERS, assigned the instant mortgage to HSBC on May 1, 2007. Doris Chapman, the Notary Public, stated that on May 1,2007, "personally appeared Scott Anderson, of 1661 Worthington Road, Suite 100, West Palm Beach, Florida 33409." In HSBC Bank, N.A. v Cherry, 4t 3, I observed that:
Scott Anderson, in his affidavit, executed on June 15,2007, states he is Vice President of OCWEN. Yet, this June 13,2007 assignment from MERS to HSBC is signed by the same Scott Anderson as Vice President of MERS. Did Mr. Anderson change his employer between June 13,2007 and June 15,2007. The Court is concerned that there may be fraud on the part or HS I E , or at least malfeasance. Before granting an application for an order of reference, the Court requires an affidavit from Mr. Anderson describing his employment history for the past three years.
Plaintiff has failed to submit "proof of the facts" in "an affidavit made by the party." The affidavit is submitted by Jessica Dybas, "a Foreclosure Facilitator of OCWEN LOAN SERVICING, LLC, servicing agent and attorney in fact to the holder of the bond and mortgage sought to be foreclosed herein." There must be an affidavit by an officer of HSBC or a servicing agent, possessing a valid power of attorney from HSBC for that express purpose. Additionally, if a power of attc mey is presented to this Court and it refers to pooling and servicing agreements, ihe Court needs a properly offered copy of the pooling and servicing agreements, to determine if the servicing agent may proceed on behalf of plaintiff. (EMC Mortg. Corp. v Batistu, 15 Misc 3d 1143 (A) [Sup Ct, Kings County 20071; Deutsche Bank Nut. Trust Co. v Lewis, 14 Misc 3d 1201 (A) [Sup Ct, Suffolk County 20061).
[ipaper docId=40355076 access_key=key-h33dousswq2l193q8gh height=600 width=600 /]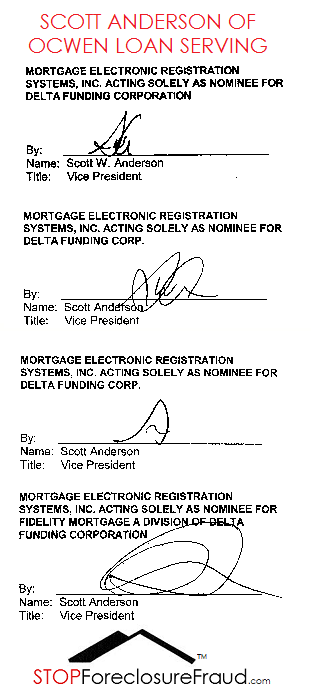 .
© 2010-19 FORECLOSURE FRAUD | by DinSFLA. All rights reserved.
Comments
comments