John Hooge Co-Writes Article Surveying MERS Mortgage Loan Cases
Half the residential loans in this country are MERS mortgage loans and are being given increased scrutiny both in bankruptcy cases and foreclosure actions.   John Hooge and Laurie Williams, the Wichita, KS. Chapter 13 Trustee, have co-written an article,  "Mortgage Electronic Registration Systems, Inc.: A Survey of Cases Discussing MERS' Authority to Act ".
Click image below for Article: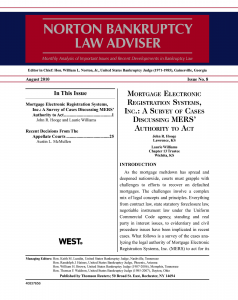 © 2010-19 FORECLOSURE FRAUD | by DinSFLA. All rights reserved.
Comments
comments